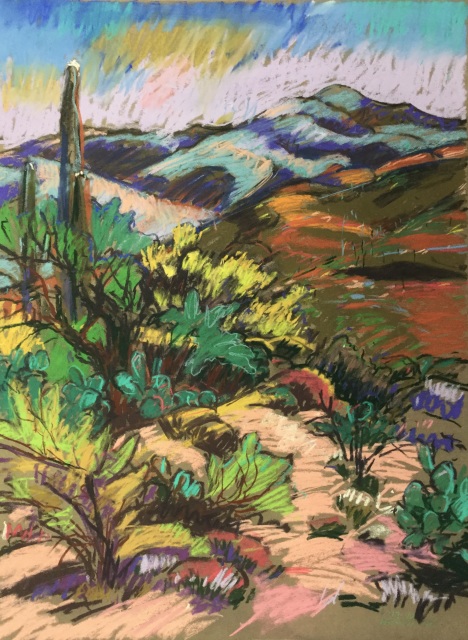 Rincoln Valley, 6-7-10
SKU:
Wide open spaces continue to hold the center of my heart. Working plein-air, or on location, exposes one to the changing light and weather; but I love this way of working. Traveling and especially being outside replenishes me and fills me up.

The Rincon Valley Foothills are circled by the Catalina Mountains near Vail, AZ. I spent much of my adolescent years exploring this very rough terrain and I am always returning when I can. I can no longer hike to the tops but am still content to stand and work at the range's knees. All of my desert landscapes are made in early dawn when I am working in the summer months. Scorching daily temperatures determine that I must be finished by 10 am. Still, the early light is magnificent--especially so during the beginning of the monsoon season!

​This Western Landscape Series has covered many years and happily, is still on-going.
​
This landscape work is a one-of-a-kind original
Chalk pastel on sanded paper, 24" x 18"
This piece is unfamed
Shipping, within the continental US is included in the sale price